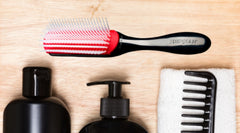 The iconic Denman brush goes back some 80 years. It all started in 1938 when John Denman Dean was introduced to a new material  - Nylon. Ahead of his time the entrepreneur crafted the revolutionary brush. This styling tool can be found in most hairstylist arsenal and of course natural and curly hair divas knows its great for curl definitions.
Why is this amazing brush so popular! It Style - Shape  & Defines
The multi-purpose brush can be used for blowdrying without snagging or pulling the hair for a perfect smooth finish. 
On damp natural textured hair apply conditioner or styling cream, use the brush in sections, racking through hair to define curls. It works wonders for detangling.
Here is a tip for cleaning your classic Denman brush, slide to remove the red cushion that holds the bristles. Once clean replace the centre. Because it's well made, the durability of this brush will make it long lasting.
Find it in numerous styles but the classic D3 with seven rows works will for wavy texture and the D4 Original styler nine row is great on coils and curly hair. The Denman brush is a must have!