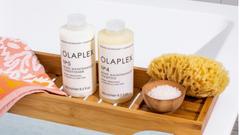 We all want a healthy full head of hair. With excessive styling, use of harsh chemicals and environmental factors such as humidity and sun exposure, all can result in split ends, dry and brittle hair leading to damage lack lustre mane.
Ranked as the number one haircare brand of 2020, Olaplex patented system repair damage hair. Our hair (structure) is made up of bonds which gives it shape, strength, elasticity and shine. Once the bonds breaks the hair strands becomes brittle, damaged and eventually breaks off.
The active ingredients in Olaplex goes to works from the inner layer to improve, repair, protect and strengthen. The formula works well on all hair types. 
The manufacture reports, combining the No.0 Intensive Repair Booster and No.3 Hair Protector together, works to improve and repair hair up to 68% and leaving it three time more stronger. Stylist use and recommends Olaplex for optimum healthy hair a clear indication that these products should be part of your haircare routine. Shop Olaplex here.