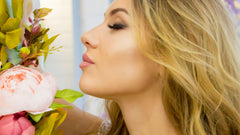 How to maintain blonde hair colour.
There are many shades of blonde and obtaining that perfect hue which works with your skin tone may take a few trips to salon.  So you acquire the right shade - now what? 
You love the look but how do you care it.  What will the routine be?
A purple shampoo should be your BFF! If you're not a natural blonde; colouring, bleaching or lighting dark hair which are  prone to yellow or orange hue will require you to incorporate a purple shampoo. Why? What?  Purple shampoo eliminate brassiness, neutralizing yellow tones. According to the colour wheel, purple and yellow are opposite, cancelling out each for a brighter lighter hue.
If you have blonde or silver hair use a purple shampoo at lease one a week to keep brassiness away. Following up with a purple conditioner is also a good idea. 
To deep condition apply purple mask every two week,  leave on the hair with a plastic cap ten to fifteen minutes then rinse to keep hair hydrated and prevent dryness. We have created a list of shampoos that are tried and true, be sure to try these to keep blondes and silver looking shiny and bright.