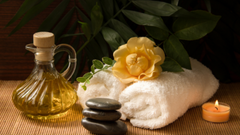 The pass several months we all have been experiencing many emotions as the uncertainty surrounding COVID-19 looms over us. Numerous changes have occur to our everyday lifestyle; from sheltering in place, social distancing, home schooling and many now working from home. 
The anxieties of the unknown not having control can leave you stressed. However, the silver lining is using a portion of the time you now have for some much needed self care. A time where you give yourself a facial or treat your hair to that deep mask you always wanted to try - for the moment,  you can't book with you fav salon, so why not create a home spa.  Pencil yourself in and set aside an hour or more for that me time, where the focus is solely on you. 
Here we curated some items to bring the spa to your space!